What are the key benefits of choosing Australian made Bamstone bluestone products for streetscape and civil works?
Increase efficiencies and receive a consistent supply of Australian bluestone in the years to come
Since 1975, the use of Australian Bamstone bluestone products for streetscape and civil works has become increasingly prevalent throughout Australia and around the world. Unique to Bamstone, all raw basalt material is sourced from the same Mt Rouse lava flow in south-west Victoria, close to the company's production facility in Port Fairy. We are dedicated to ensuring the longevity of a natural resource and greater supply capacity of consistently high grade raw material. Ownership of licensed Victorian quarry sites ensures a consistent and sustainable supply of premium quality bluestone. ​
Product first mindset + longevity
We locally source and supply premium bluestone that has an industry reputation for longevity, strength and timeless characteristics. All Bamstone paving products have undergone independent qualitative and quantitative testing by Stone Initiatives. These independent tests are carried out to assess the quality, durability and slip resistance of products. The unique material characteristics discovered by Stone Initiatives testing and 45+ years of operation conclude that Bamstone bluestone products are unsusceptible to warping, exfoliation, curling or rust upon installation. Over time, Bamstone bluestone develops further in aesthetic qualities, darkening with age and maintaining its clarity and beauty in high traffic and public areas. After the initial tracking in of the stone, Bamstone bluestone develops its own natural patina without the need for a sealant product.
Four decades, three generations, one Australian made product
Bamstone is Australia's home to premium bluestone. For over 45 years, we have crafted streetscape civil products in the form of paving, gutterstones, kerbing, pedestrian crossings, tram stops, ​overflow kerb, roundabouts, street furniture and planter boxes for Australian cities and regional communities. Our team are available for direct consultation to ensure that you meet your design, construction and engineering potential.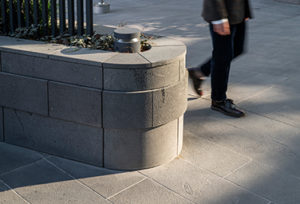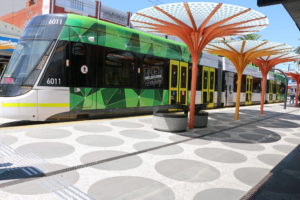 Discover our range of paving and tiles or review our recent civil projects.